The products obtained from the almond are highly appreciated in cooking and cosmetics, but their production is expensive from the environmental point of view.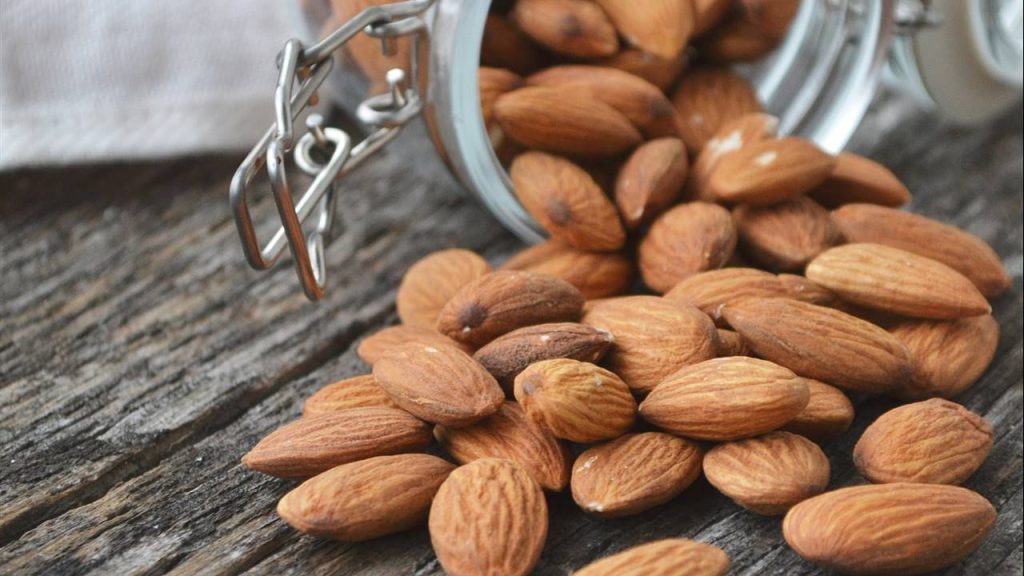 Almond trees probably come from southwest Asia. Today wild almond trees grow mainly on the eastern coast of the Mediterranean, in Turkey, the Caucasus, Iran, Iraq, Turkmenistan, Kyrgyzstan and Uzbekistan. Spain is the second largest producer in the world, with 15% of the harvest, and the United States is the first, with 27%.
ARE THERE DIFFERENT TYPES OF ALMONDS?
There are basically two groups of almonds:
Sweet almonds, used in pastries and desserts
Bitter almonds, which are used in small amounts to flavor liqueurs, such as Amaretto, for example. Due to their high content of hydrocyanic acid, among other things, bitter almonds are not suitable for consumption. During the production of bitter almond oil, hydrocyanic acid is extracted
PRODUCTS MADE WITH ALMONDS: ALMOND OIL, ALMOND MILK, ALMOND BUTTER
Almonds are extremely versatile and can be used in both sweet and savory dishes or as in oil in cosmetics. Very classic products based on almonds are:
Marzipan: strictly speaking, it consists of three ingredients: almonds, sugar and rose water or orange blossom. The more almonds in the marzipan, the higher the quality.
Almond milk: to make it, the almonds are ground until a very fine paste is obtained that is mixed with water. By straining it, almond milk is obtained, which can be used as food or cosmetic.
Almond oil: It is extracted from sweet almonds and bitter almonds, depending on the purpose. Almond oil is especially suitable for sensitive and dry skin and for babies, but it also tastes delicious in desserts and liqueurs bitter almond oil
Almond flour: is a by-product of the production of almond oil. Almond flour without oil does not contain gluten and contains few carbohydrates, so it is suitable for celiacs and as part of a low-carb diet
Almond butter: consists of finely ground almonds without any additives. Dark almond butter is made from unpeeled roasted almonds, white almond butter is made from peeled "bleached" almonds. Dark almond butter has a strong flavor and is good for baking, while light almond butter can replace cream and is a wonderful base for desserts or smoothies.
ARE ALMONDS HEALTHY?
Half of the almond is fat. Although it has the same caloric density (9 calories per gram) as any other fat, it is much healthier than fat from animal products.
This is because most fatty acids are monounsaturated as in olive oil and are beneficial on the cardiovascular system and cholesterol levels.
In 100 g of almonds:
Total lipids (g) 53.5
Saturated fatty acids. 4.24 g
Monounsaturated GA: 36.6 g
Polyunsaturated GA: 10 g (0.25 g omega-3 and 9.7 g omega-6)
In addition, almonds contain about 20% protein, so almond butter and almonds are a valuable source of protein in meatless cooking.
22% of the weight corresponds to carbohydrates. If consumed with skin, they also provide a lot of dietary fiber (14.3%), which not only prevents colon cancer, but is satiating and favors blood glucose control.
ARE ORGANIC ALMONDS BETTER?
To combat pests, conventional almonds are gassed, among other things, with phosphine, which is very toxic. Theoretically, little or no toxic phosphine should be found in food, but traces have been found in samples. This pesticide is not found in organic almonds.
Sulphidation (a preservation method), a treatment that destroys vitamin B1, is also banned in the organic sector.
ALMOND CULTIVATION CONSUMES A LOT OF WATER
The United States is the world's largest exporter of almonds. California is the main producing state and also the most affected by drought, which is increasing with climate change. It takes about 10,000 liters of water to harvest a kilo of almonds in California.
In Spain, water consumption is also a problem, although the almond tree is very well adapted to the Mediterranean climate, but they are irrigated more than necessary to increase yield.
On the other hand, the monoculture of almonds for export has been associated with the excessive use of pesticides and with the exploitation of bees for pollination, which die intoxicated and exhausted.
WHAT ALMONDS CAN YOU BUY?
To reduce the environmental impact, the criteria are: organic and local production. Avoiding buying imported almonds does not contribute to the emissions associated with transporting an already environmentally expensive product.