Everyone knows the annoying burning in the eyes and tears when cutting onions. But why does this effect occur? What's the best way to protect yourself? And why doesn't the Sunion onion variety bring tears to the ground?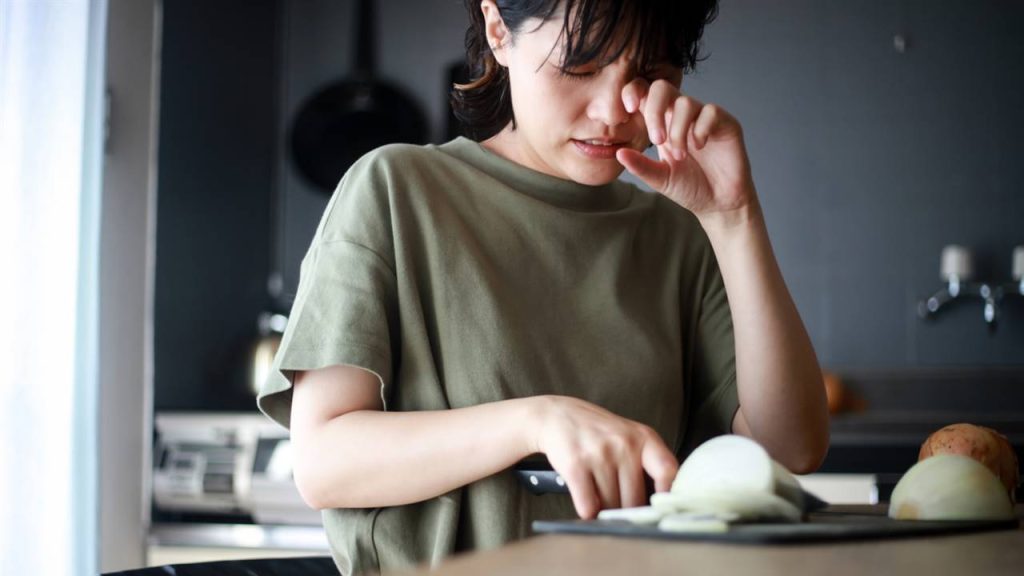 The onion contains two substances that are responsible for us crying when cutting it, after a succession of chemical reactions. By cutting the onion, you break down its cells and allow the enzyme alliinase to react with isoallin, one of its organosulfur compounds, and sulfenic acids to be released. One of these acids is thiopropanal sulfoxide, an irritant gas that when in contact with the eyes stimulates sensory neurons, which cause the secretion of tears to dilute the irritant.
In nature, imagine what happens when a volume mouse or insect bites an onion. Therefore, it is a protection mechanism of the wise onion plant, which also serves to protect it from other pathogens, such as some fungi. But how to avoid that effect on us and get our eyes to water when cutting onions? Some have decided to opt for onion unions – which promise not to make you cry – but we are going to tell you why it is better to resort to other effective tricks.
WHAT ARE SUNIONS ONIONS?
Sunions onions have been on the market since February 2022. They are onions that as they ripen reduce their content in organosulfur compounds and when they arrive at your house, they no longer have the capacity to make you cry.
These onions have been developed by the company BASF without resorting to transgenic engineering, but to the crossing of the less spicy species. After 30 years they have achieved onions that do not make you cry and that become sweeter and softer every day they spend at home, the opposite of what happens with the rest of varieties.
ONIONS THAT DO NOT STING: IS THIS A GOOD IDEA?
The new variety of onions raises questions. An important one is to what extent the overall composition of the onion has changed and whether it is still sufficiently protected against herbivores, or whether more pesticides should now be used during cultivation.
In addition, the question arises as to whether the content of substances that are beneficial to health has been reduced. Everything indicates that this is the case, although BASF's press releases do not provide information on this.
TRICKS TO AVOID CRYING WITH ONIONS
If you want to continue eating the hot onions of a lifetime, fortunately there are simple ways to protect yourself from their irritating ingredients.
ALWAYS USE A VERY SHARP KNIFE
A blunt knife breaks too many cells. With a sharp knife you will reduce the amount of tear gas that the onion can emit.
So, if you like to prepare onions and have always had to fight tears, from now on you should only cut them with sharp knives.
CUT THE ONIONS ON A WET BOARD
Water can also help you when cutting onions. You just have to wet the board before cutting the onion in it so that the water works as a layer that reduces the amount of gas that can spread.
PUT ONIONS IN THE FRIDGE BEFORE CUTTING
It's also a good idea to cool onions before cutting them, because cold can also minimize the spread of onion gases. Cold is even more effective than water.
The reason is that below 10 ºC temperature, the reaction rate of the enzyme alliinase is reduced by half.
To be able to take advantage of this protective effect, the most practical thing is to take the onions and put them in the refrigerator the night before their use to prepare the food.
However, the refrigerator is not the ideal place to store onions long-term. A humid environment accelerates the appearance of mold. It is better to store them in another cool, dark and, above all, dry place.
DON'T FREEZE ONIONS
The cold is effective, but freezing them is not. During freezing, ice crystals destroy the membranes of plant cells and when thawed the gas would propagate without cutting the onion.