Beta-carotene, which the body converts into vitamin A, is an essential nutrient for skin and eye health and protects against infections.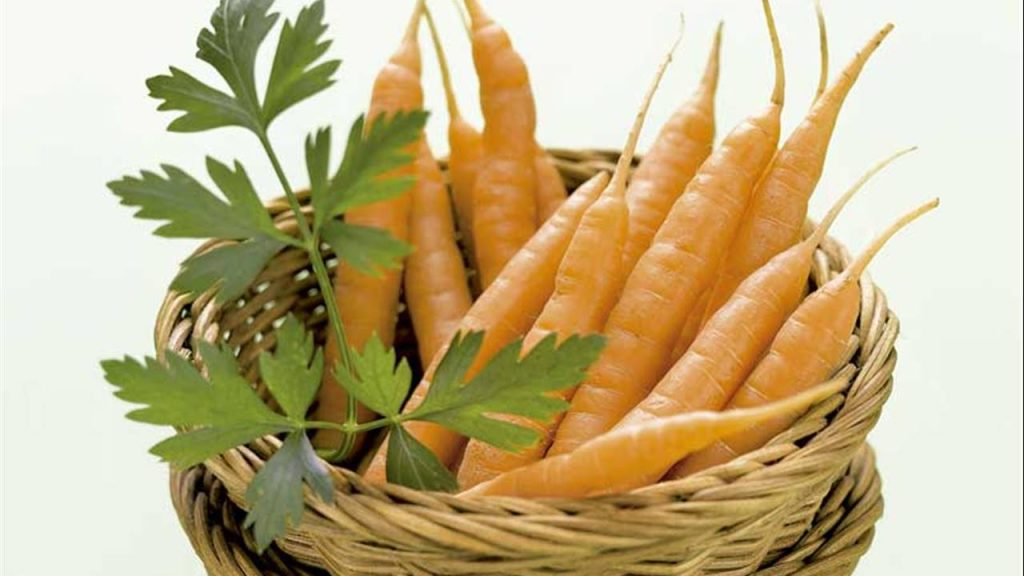 Foods with vitamin A or beta-carotene should not be missing from the diet. This nutrient with powerful antioxidant properties helps fight oxidative stress, promotes eye and skin health and helps strengthen the immune system.
7 CHAMPION FOODS IN VITAMIN A
These foods are especially rich in vitamin A. Always keep them in your pantry and add them to your menus in a balanced way to get the health benefits of vitamin A.
CARROT
The carrot is the vegetable with more beta-carotene, a nutrient responsible for its characteristic orange color and that the liver transforms into a substance with vitamin A activity.
The main symptom of it lack is worse night vision, but taking a carrot a day can improve it.
Its regular consumption also stimulates the production of melanin in the skin and protects it from the action of UVA and UVB radiation, which can damage cells and favor the appearance of cancer.
VITAMIN A CONTENT PER 100 GR:
100 g of carrots provide 1,100 mcg of provitamin A and cover 110% of the necessary per day.
CANONS
They are especially rich in vitamin A and ideal to take seasoned with olive oil, because fatty foods help to better synthesize fat-soluble vitamins. They also provide folic acid, iron and vitamins B6, C and E.
The canons are usually always used raw and are added at the end, just before serving the dish, or even after seasoning it, because heat and some strong seasonings such as vinegar deteriorate them quickly.
VITAMIN A CONTENT PER 100 GR:
They provide 650 mcg per 100 g. A serving of 150 g, therefore, covers all the daily needs of this vitamin.
SPINACH
Spinach is the vegetable richest in beta-carotene, which protects against macular degeneration, a disorder related to blindness in older people.
As the absorption of this vitamin improves in the presence of proteins, it is appropriate to accompany spinach with legumes.
The same goes if taken with foods rich in zinc (seeds, nuts …) or vitamin E (wheat germ, almonds, oils …).
VITAMIN A CONTENT PER 100 GR:
A normal serving of spinach of 250 g doubles the daily dose of provitamin A required by an adult, since 100 g provides 815 mcg.
APRICOT
The great asset of apricot is its richness in beta-carotene, whose excess, unlike retinol, does not pose a risk of toxicity. The liver transforms only what it needs and the rest is deposited in the tissues, and can only cause the skin to turn somewhat yellow.
VITAMIN A CONTENT PER 100 GR:
It provides 300 mcg of vitamin A per 100 g. But the record of vitamin A of fruits is held by dried apricots or apricots, which multiply by 2.5 their content in vitamin A (770 mcg), although also by 5 their calories (50 g provide 129 calories).
GREEN CABBAGE
Cabbage is rich in antioxidants, especially beta-carotene, vitamin C and vitamin E.
Thanks to these and other substances present in cabbage, their high consumption reduces by half the incidence of lung, stomach, colon and skin cancer. A protective effect that includes other diseases, such as heart disease, stroke…
Taken raw in salads or undercooked, the loss of vitamin A is avoided and it is also, on the one hand, less flatulent than cooked and, on the other hand, tastier.
VITAMIN A CONTENT PER 100 GR:
100 g provide 830 mcg of provitamin A, 83% of the daily needs of this vitamin.
SWEET POTATO
Taking sweet potato is a healthy and tasty way to benefit from vitamin A without adding fat to the diet.
In its active form (or retinol) it abounds in liver, pâté or mature cheese, so it carries significant amounts of saturated fats and cholesterol.
On the other hand, beta-carotene in vegetables provides vitamin A without counterparts: it ensures growth, maintains cell structure, protects mucous membranes and fights against free radicals.
VITAMIN A CONTENT PER 100 GR:
1,000 mcg of vitamin A per 100 g. Thus, a sweet potato of 100 g covers twice the daily requirements.
FENNEL
The richness in vitamin A of this bulb makes its consumption highly recommended, especially for nursing mothers, as they need an extra contribution of 500 mcg per day.
Fennel will be doubly useful since its intake will help cover this requirement and also its effect on the hormonal system will stimulate milk production.
VITAMIN A CONTENT PER 100 GR:
100 g provide almost 800 mcg of provitamin A so a serving of 200 g meets more than 150% of the daily needs of this vitamin.